Korghantverk/Basket Crafts - Grytunderlägg/Pot Stand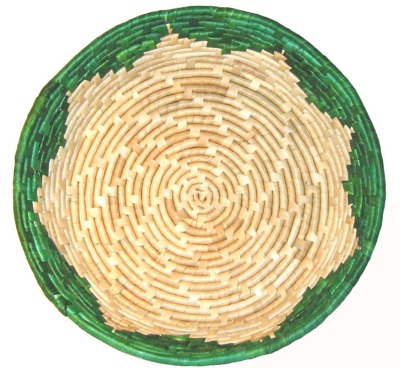 Pris:
65 kr
Inkl. 25% Moms
Typ:
Grytunderlägg/Pot Stand - Grön/Green
Antal:
Finns i lager
Vackra korghantverk tillverkade av kvinnor i olika grupper på landsbygden söder om Colombo på Sri Lanka.
Storlek:
20 cm
Färger:
Blå
Brun
Grön
Gul
Lila
Rosa
Röd
Korghantverket görs av en speciell stamlös palm vars blad lämpar sig särskilt väl att fläta korgar m.m. med. Palmen kallas Wattake Watti på singalesiska. Kvinnorna samlar in palmbladen som sedan rengörs och läggs i blöt. Därefter kokas bladen mjuka och till slut torkas de. En del blad färgas för att sedan torkas ytterligare en gång.
Kvinnorna träffas i en gemensam lokal där de ibland arbetar tillsammans och där nya kvinnor i gruppen får lära sig hantverket. Men mestadels arbetar kvinnorna i hemmet samtidigt som de ser till sina barn och maten kokar på spisen. Att tillverka korgar innebär att de får en välbehövlig extrainkomst till sina familjer.
Sarvodaya är en religiöst och politiskt obunden organisation som arbetar över hela Sri Lanka för att förbättra levnadsvillkoren för landets fattiga. De verkar i över 2000 byar och driver hem för föräldralösa barn, skolor, utbildningar för fattiga unga, hem för gamla mm. De hjälper också till att starta hantverksgrupper ute i byarna. Sarvodaya hjälper också till med packning och export.
En del av det du betalar för varorna går till Sarvodayas sociala verksamheter. Att köpa dessa produkter betyder således något för många fattiga människor.
I rullistan finns att beställa det jag har i lager.
På hemsidan
www.northsouth-fairtrade.se
kan du se hela sortementet.
Maila mig
om du vill beställa något som jag inte har i lager.
_______________________________________________________________________
Beautiful baskets crafts made by women in different groups on the countryside south of Colombo in Sri Lanka.
Size:
20cm
Colors:
Blue
Brown
Green
Yellow
Purple
Pink
Red
The baskets crafts are made of dried palm leaves. It uses a special stock solution palm tree whose leaves are particularly well suited to plait baskets etc. The palm is called Wattake Watti in Sinhalese. The women collect palm leaves which then are cleaned and soaked in water. Then the leaves are boiled soft, and finally they are dried. Some leaves are stained and then dried once again.
The women meet in a common room where they sometimes work together and where new women in the group can learn the craft. But mostly, women work at home as they watch their children and the food cooking on the stove. Producing baskets means that they get a much needed extra income for their families.
Sarvodaya is a religious and politically unrelated organization working across Sri Lanka to improve the living conditions of the country's poor. They work in over 2000 villages and run homes for orphans, schools, educations for poor young people, homes for old, etc. They also help to start craft groups out in the villages. Sarvodaya also helps with packing and export.
Part of what you pay for the goods goes to Sarvodaya's social activities. Buying these products thus means something to many poor people.
In the drop down list you can order what I have in stock.
On the website
www.northsouth-fairtrade.se
you can see all variety ments.
Email me
if you want to order something that I don´t have in stock.