Löpare/Runner - Opuntia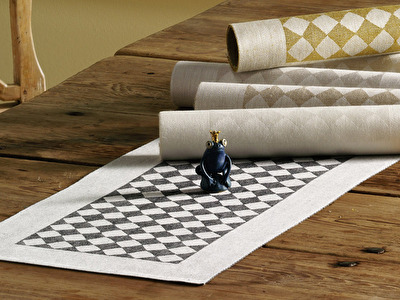 Pris:
425 kr
Inkl. 25% Moms
Typ:
Löpare/Runner Opuntia - Guldgul/Golden Yellow
Antal:
Finns i lager
En äkta damastlöpare, vävd med en tunn fin linnetråd, i hellinne. Mönstrets oregelbundna rutor skapar en fantastisk lyster när varp och väft spelar med varandra i ljusets olika vinklar. Mönstret är inspirerat av kaktusblomman Opuntia "Nattens Drottning".
Storlek: 35 cm x 110 cm
Färg:
Brons
Cerise
Champagne
Guldgul
Lime
Oblekt
Silvergrå
Svart
Vit
Kvalité: Hellinne
Design: Ingela Berntsson
Krympmån
Alla angivna storlekar avser otvättad vävnad. Räkna med en krympmån på cirka 5-7% både på längd och bredd i samband med första tvätten. Följ tvättinstruktionen.
Klässbols linneväveri är ett familjeföretag som härstammar från slutet på 1800-talet. Det är nu tredje och fjärde generationen som driver företaget. Produktionen är belägen i Klässbol utanför Arvika i Värmland, där det även finns en butik och kafé. Klässbols och lin är lika med kvalitet och det finns produkter för alla rum. Kunglig hovleverantör sedan 1970-talet och står bland annat för dukarna till Nobellfesten. Samtidigt som de bevarar gamla, traditionella mönster tar de fram nya, moderna. De samarbetar med erkända formgivare, både nationella och internationella. Klässbols har vunnit flera designpriser.
I rullistan finns att beställa det jag har i lager.
Maila mig
om du vill beställa något som jag inte har i lager.
Design & tillverkning: Klässbols Linneväveri.
_______________________________________________________________________
A true damask runner, woven with a thin fine linen thread, in the pure linen. The irregular squares of the pattern create a great luster when warp and weft play with each other in different angles of light. The pattern is inspired by the cactus flower Opuntia "The Queen of the Night".
Sizes: 35 cm x 110 cm
Color:
Bronze
Cerise
Champagne
Golden Yellow
Lime
Unbleached
Silver Gray
Black
White
Quality: Pure Linen
Design: Ingela Berntsson
Shrinkage
All listed sizes refer to unwashed tissue. Expect a shrinkage of about 5-7% in both length and width in connection with first wash. Follow the washing instructions.
Klässbols linneväveri is a family company that dates back to the late 1800s. It is now the third and fourth generation running the company. The production is located in Klässbol outside Arvika in Värmland, where there is also a shop and cafe. Klässbols and linen are equal to quality and there are products for all rooms. Royal Courthouse supplier since the 1970s and has made the cloths for the Nobel Dinnerz. While retaining old, traditional patterns, they produce new, modern. They cooperate with recognized designers, both national and international. Klässbols has won several design prices.
In the drop down list you can order what I have in stock.
Email me
if you have any questions.
Design & production: Klässbols Linneväveri.