Hatt/Hat - Satrana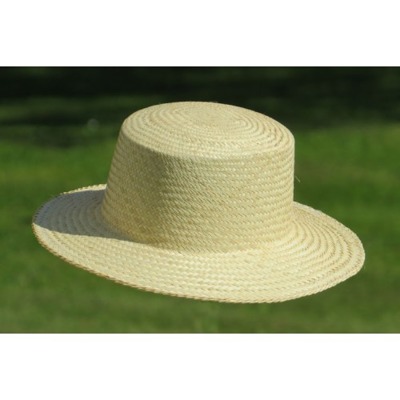 Ord. pris:
299 kr
239 kr
Inkl. 25% Moms
Du sparar:
60 kr (20%)
Typ:
Hatt/Hat Satrana - Naturvit/Natural white
Antal:
Finns i lager
Denna herrhatt med platt kulle och rakt brätte görs av material från Satrana palmen "Medemia nobilis Arecaceae" som blir upp till 25 m hög med 5-6 meter långa blad i en stor, rund krona. Den växer på Madagaskars grässlätter och högländer och är ett av få träd som överlever svedjebränningen. En hatt av eko-reko material och ett riktigt kvalitetshantverk. Ett hållbart mode för en hållbar livsstil.
Brätte: 7cm
Färger: Naturvit
Hantverk spelar en viktig roll i hushållets ekonomi. Att det är en verksamhet som drivs av kvinnor kan tänkas ytterligare förstärka dess positiva effekter.
Mer information om hantverket och hantverkarna finns på:
La Maison Afrique FAIR TRADE
. På deras hemsida kan du se hela deras sortement.
Maila mig
om du vill beställa något som jag inte har i lager.
_______________________________________________________________________
This men hat with flat hat crown and straight brim is made of material from the Satrana palm "Medemia nobilis Arecaceae" that grows to a hight of 25 m with 5-6 meter long leaves in a large, round crown. It is found on the Malagasy grasslands and highlands and is one of few trees resistant to bush fires. A hat made of echo-proof materials and a true quality craftsmanship. Sustainable fashion for a stylish and sustainable lifestyle.
Brim: 7 cm
Colors: Naturewhite
Crafts are essential for household income. That the activity is managed by women might further enhance its positive effects.
More info about the artisans and the crafting is found on:
La Maison Afrique FAIR TRADE
. On their website you can see all their variety ments.
Email me
if you want to order something that I don´t have in stock.