Handgjort papper/Handmade paper - Presentpåse/Gift bag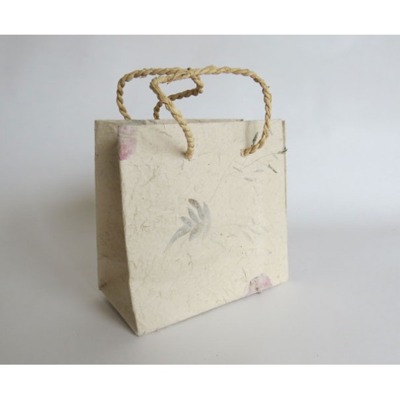 Price:
38 kr
Inc. 25% Tax
Type:
Presentpåse/Gift bag - Liten/Small
Quantity:
In Stock
En kraftig och vacker presentpåse med blomstermotiv på båda sidor och handtag av flätade raffiafibrer gjorda av anteimoropapper som är ett handgjort papper av bark och vatten, färska blommor och blad. Detta är ett hantverk med lång tradition, genuint och småskaligt som hantverkarna för vidare med stor skicklighet -med naturens egna blommor och blad som dekoration blir resultatet inte bara vackert utan även unikt. Naturens skönhet finns i varje kort. Hantverk från Madagaskar med respekt för natur, människa och tradition och för en hållbar utveckling därför fraktas allt med båt till Sverige.
Storlek:
Liten: 10 cm x 10 cm x 5 cm
Papperet är handgjort av bark och vatten.
Det är ett hantverk med lång tradition som hantverkarna för vidare med stor skicklighet - och mycket vackert resultat.
Blommorna är naturens egna - varje påse är unik.
Mer information om hantverket och hantverkarna finns på:
La Maison Afrique FAIR TRADE
På deras hemsida kan du se hela deras sortement.
Maila mig
om du vill beställa något som jag inte har i lager.
_______________________________________________________________________
A strong and beatuful gift bag with flower decoration on each side and a handle made of plaited raffia made of Anteimoro leaf paper that is a handmade paper of bark and water, fresh flowers and leaves. This is a craft of long tradition, genuinely and small-scale, as the craftsmen carry on with great skill - with nature's own flowers and leaves as decoration, the result is not only beautiful but unique. Nature's beauty is available in every paper. Arts & crafts from Madagascar with respect for environment, people and traditions and for sustainable development are therefore shipped by sea to Sweden.
Size:
Small: 10 cm x 10 cm x 5 cm
The work gives important income to women on the Malagasy countryside. The soil is too poor for self-subsistence agriculture, making crops for cash impossible. Crafts are essential for household income. That the activity is managed by women might further enhance its positive effects.
More info about the artisans and the crafting is found on:
La Maison Afrique FAIR TRADE
. On their website you can see all their variety ments.
Email me
if you want to order something that I don´t have in stock.