Bok/Book: Happy Days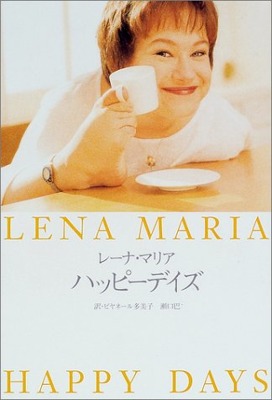 100 kr
Inc. 6% Tax
Type:
Happy Days
Quantity:
In Stock
En bok på japanska.

Introduktion
En uppsats av Lena Maria, ett svensk sångerska med ett gravt funktionshinder. Lena Maria är en "framgångsrik person i livet" för japanska fans. I denna bok, talar hon öppet, med humor, hur hon funnit sig till rätta i livet och gör sin dröm och lycka till verklighet. Temat är "vikten av familjen." Lena Maria har två familjer. Den ena är "familj" med sin far och mor som uppfostrade henne. Den andra är hennes familj med maken · Björn. Hon skriver att orsaken till hennes styrka är nyckelordet "familj". Det är det som gör att hon kan leva med ett handikapp och samtidigt arbeta i Japan och Europa som sångerska. Detta är en bok som måste läsas. Skriven av en ung kvinna som berättar om envisheten bakom sitt leende.

Kommentar från förlaget
Den här boken handlar om Lena Marias mor, far och make. Om sättet Lena Maria har levt och de som stödde och stödjer det. Denna berättelse handlar om Lena Marias dagliga liv som det är. Det är en bok som berättar om hennes milda sångröst och robusthet och mod bakom leendet.
_______________________________________________________________________
A book in Japanese.

Introduction
An essay of Lena Maria, a Swedish female singer with severe disabilities. Lena Maria is a "successful person of life" for Japanese fans. In this book, she speaks frankly, with humor, as to how she establishes herself and realizes her dream and happiness. The theme is "importance of family." Lena Maria has two families. One is "Family" with her father and mother who raised her. The other is her family with her husband · Bjorn. She writes that the reason for her strength is the keyword "family". That's what makes her be able to live with a handicap and at the same time be working in Japan and Europe as a singer. This is a must-read book of a young lady who tells us the stubbornness behind her smile.

Comment from publisher
This book is about Lena Maria's mother, father, and husband. The way Lena Maria has been living and those who supported and supports it. This essay tells about Lena Maria's daily life as it is. It is a book that tells us about her gentle singing voice and the sturdiness and courage behind the smile.