A new chapter & Happy New Year!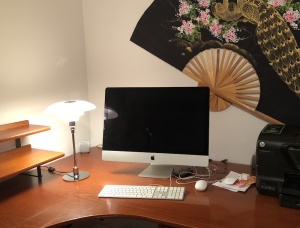 It was really fun to have a shop for over 3.5 years. But at the same time it feels like a relief to close. Last Saturday, the day before Christmas Eve, I welcomed the last customers before I went home and celebrated a peaceful Christmas with my family.
But then we have moved the entire office and store, invented and cleaned. Last night we locked the door to the shop for the last time and went home to all the moving boxes and furnitures that now fills our garage and basement.
Today I sat down in my new office in the basement and I can barely tear myself. This feels so good! Now I'll have time for painting and songwriting in a different way. It feels like a whole new chapter begins. What it will contain, I wait with bated breath!
I also would like to wish you who read this little blog a good end of this year and a nice and great 2018!