Pumptvålrefill/Pump Soap Refill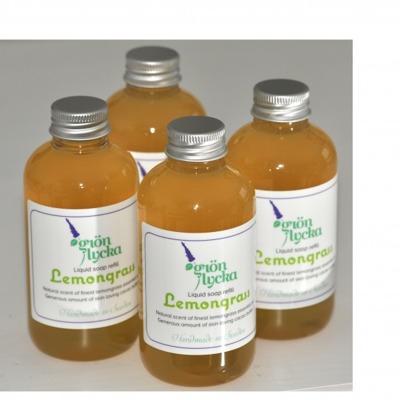 Ord. pris:
99 kr
79 kr
Inkl. 25% Moms
Du sparar:
20 kr (20%)
Typ:
Tvål/Soap - Flytande refill/Liquid refill
Antal:
Finns i lager
En exklusiv ekologisk flytande tvål som tillverkas i små satser, allt för den genuina känslan. Varje recept är noga utformat och fyllt av härligheter för huden. Ej testat på djur. Fri från tensider, parabener, mineraloljor och citronsyra.
Fräsch och uppfriskande blandning av naturlig citrongräsolja för huden. Tvålen tillverkas helt från grunden på förtvålade ekologiska vegetabiliska oljor. Naturligt glycerin bildas som är som guld för huden och verkar återfuktande.
Refillen används tillsammans med pumpflaska (slut i lager) som bjuder på ett drygt och rikligt mjukt lödder.
Passar: torr och skadad hud. Alla hudtyper.
Ingredienser: Aqua, glycerin* (veg. glycerin), potassium cocoate* (kokos), potassium olivate* (oliv), potassium theobroma cacao butter* (kakaosmör), phenoxyethanol (konservering), citratus oil (citrongräs), tocopherol (vitamin e), citral**, limonene**, geraniol**, linalool**, citronellol**
* Ekologisk råvara
** Finns naturligt i eteriska oljor
150 ml
Grön Lycka är ett exklusivt spa sortiment som innehåller generösa mängder av noga utvalda naturliga och ekologiska råvaror som vårdar, stärker och återfuktar huden. Inspirationen är hämtad direkt från naturen och produkterna tillverkas för hand med passion och perfektion i små satser. Fokus ligger på ört- & aromaterapi för att stötta kroppens egna funktioner. Grön lycka har en unik design och förpackning.
Design & tillverkning: Grön Lycka.
Maila mig
om du vill beställa något som jag inte har i lager.
_______________________________________________________________________
An exclusive organic liquid soap produced in small batches, all to the genuine feeling. Each recipe is carefully designed and filled with delights for the skin. Not tested on animals. Free from surfactants, parabens, mineral oils, and citric acid.
Crisp and refreshing blend of natural lemon oil for the skin. The soap is made from scratch on saponified organic vegetable oils. Natural glycerin formed which is like gold for the skin and acts moisturizing.
The refill is used with a dispenser (out of stock) that offers a lasting and abundant soft lather.
Suitable for: dry and damaged skin. All skin types.
Ingredients: Aqua, glycerin * (veg. Glycerine), potassium Cocoate * (coconut), potassium Olivate * (olive), potassium Theobroma cacao butter * (cocoa butter), phenoxyethanol (preservative), citratus oil (lemon grass), tocopherol (vitamin E ), citral **, Limonene **, geraniol **, linalool **, citronellol **
* Organic raw material
** Occurs naturally in essential oils
150 ml
"Grön Lycka" (Green Happiness) is an exclusive spa assortment that contains generous amounts of carefully selected natural and organic ingredients that nurture, strengthen and moisturise the skin. Inspiration is taken directly from nature and the products are manufactured by hand with passion and perfection in small batches. The focus is on herbal and aromatherapy to support the body's own functions. "Grön Lycka" has a unique design and packaging.
Design & production: Grön Lycka.
Email me
if you have any questions.