Bok/Book - Att väva sin historia (In Swedish)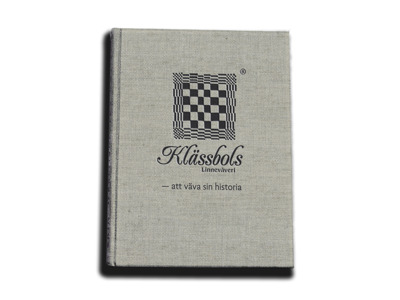 Price:
298 kr
Inc. 25% Tax
Type:
Bok: Att väva sin historia
Quantity:
In Stock
Titel: Klässbols Linneväveri - att väva sin historia
Författare: Sven Smedberg
Förlag: Heidruns Förlag
Bandtyp: Inbunden
Utgiven: September 2010
Antal sidor: 210
Om innehållet
Det började för 90 år sedan i köket i Nystuga i Klässbol, där vävaren Hjalmar Johansson efter arbetsdagen på Stavnäs Yllefabrik vävde lakan och enklare dukmönster.
Det är en lång, krokig och mödosam väg från denna trävävstol till det moderna väveriet, där tredje och fjärde generationen Johanssöner nu väver linne för ambassader och kungliga banketter.
Om vägen till framgång inneburit att erövra ny teknik, introducera ny design och skapa ett respekterat, modernt varumärke, har samtidigt det historiska arvet hela tiden hållits levande.
Om författaren
Sven Smedberg är född 1941, bosatt i Mangskog i västra Värmland. Studier i humaniora i Uppsala, fil. kandidat.
Efter att i många år ha varit knuten till Ingesunds Folkhögskola och dess teaterlinje ägnar Sven sig numera åt ordet, det skrivna, det talade, det lyriska, det dramatiska, det sakliga, i första hand som poet och konstanmälare.
"Sven Smedberg är en diktare i den stora modernistiska lärda traditionen från Ezra Pound och Eliot. Det är inte varje dag Sverige får en ny betydande diktare.", skrev den danske författaren och litteraturkritikern Poul Borum 1996.
Klässbols linneväveri är ett familjeföretag som härstammar från slutet på 1800-talet. Det är nu tredje och fjärde generationen som driver företaget. Produktionen är belägen i Klässbol utanför Arvika i Värmland, där det även finns en butik och kafé. Klässbols och lin är lika med kvalitet och det finns produkter för alla rum. Kunglig hovleverantör sedan 1970-talet och står bland annat för dukarna till Nobellfesten. Samtidigt som de bevarar gamla, traditionella mönster tar de fram nya, moderna. De samarbetar med erkända formgivare, både nationella och internationella. Klässbols har vunnit flera designpriser.
Vill du beställa fler böcker än de jag har i lager, skicka mig ett
email med din beställning
så tar jag hem dem.
_______________________________________________________________________Title: Klässbols Linneväveri - to weave its history
Author: Sven Smedberg
Publisher: Heidruns Publisher
Band Type: Hardback
Published: September 2010
Number of pages: 210
Klässbols linneväveri is a family company that dates back to the late 1800s. It is now the third and fourth generation running the company. The production is located in Klässbol outside Arvika in Värmland, where there is also a shop and cafe. Klässbols and linen are equal to quality and there are products for all rooms. Royal Courthouse supplier since the 1970s and has made the cloths for the Nobel Dinnerz. While retaining old, traditional patterns, they produce new, modern. They cooperate with recognized designers, both national and international. Klässbols has won several design prices.
Email me if you have any questions.