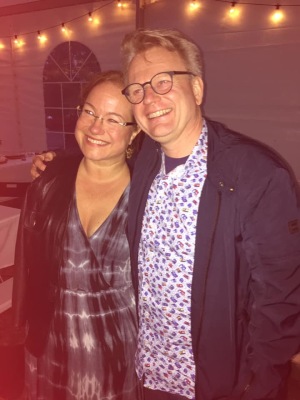 One of the most fun things I know is to invite to party! And last Thursday was one of the high light days of my life. I invited a lot of friends, neighbors, family, colleagues, classmates, art friends and church friends and 184 showed up to my big feast.
In the autumn of 28/9 when I turned 50 we had no floor and no kitchen in our house and I was also in Asia for a month. So I pushed my birthday party to the Ascension Day of Christ this week when people are free from work and the weather is more beautiful.
Fortunately, we had rented a large tent that accommodated us all and friends came from near and far, even from Norway, Scotland, Korea and Japan. But unfortunately it wasn't a warm and sunny summer day. The clouds were thick and the rain fell in early evening but the tent kept us dry and the atmosphere made us warm!
I am so extremely grateful that I have a man who support all my ideas. Therefore, with his help, my parents and my assistants, and all guests of course and a delicious barbecue dinner from "Ebbarps Norrgård", it became an unforgettable day!
Read the whole blog »