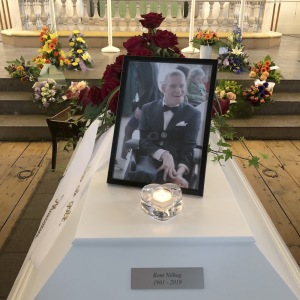 One of the most painful things in life is to be separated from our loved ones. And it seems that that the older you become, the more funerals you get to attend, I think some can agree to that.
In the past week we had to take leave of Kent Nilhag. Kent and I were colleagues in the Mouth & Foot Painters. Kent was a foot painter just like me and we joined the association the same year, 1990.
Kent had cerebral pares and sometimes he suffered severe spasms and speech difficulties, but one of his legs and feet worked well. With that foot he created many paintings and in 2000 he started his own gallery "No Hands" in his hometown Karlskrona on the south coast of Sweden. It was also in Karlskrona, the beautiful Church of the Holy Trinity, in the middle of the city, the funeral for Kent was held.
I drove down from Jönköping, my hometown, in a class 1 warning snow storm and it took almost four hours, together with my assistant and sang two songs chosen by his mother and closest friends. Two amazing songs that express the love and appreciation of life and each other. That this day offered snow storm makes me not forget Kent's funeral in the first place, if I may put it that way. Kent was an enterprising man, wanted a lot and took care of the opportunities he had. He was hugely appreciated and loved, especially in his hometown. It will be empty now without Kent at our annual meetings and exhibitions.
Rest in peace Kent and I hope we'll see eachother again in the life after this. Then we can dance you and I!
Read the whole blog »
Trendy, stylish greeting cards, double-folded with envelopes. Each card has a number from 1 to 100. All are different. Fits the gift when you're going to the Birthday Party! Now they are finally posted in my online store and easy to order!
Read the whole blog »