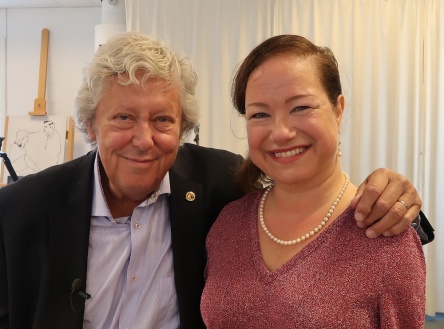 Art experience in Vienna, opening of an exhibition with Mouth- & Foot Painters and a film about my artistry is the content of today's blog.

This weekend we had the spring opening of our exhibition in our Gallery Mouth & Foot in Stockholm. The opening was very successful and many people came. This year we had the great pleasure of having Ulf Elfving as a guest. He's one of the most well known radio voices in Sweden. A more popular person is hard to find and he interviewed all the artists who were there. See picture! The weekend's novelty was also filmed by Johnny Lindgren, so for those who did not join, you'll be able to later on see the opening at youtube.

At Saturday night we painters also had a nice evening out at the Golden Hits!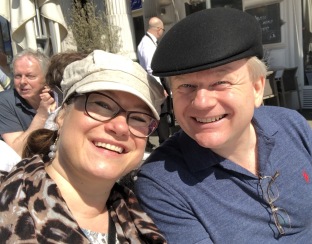 About a month ago, I was in Vienna on a trip with my husband's siblings and their respective. We had a fantastic weekend where we got to meet the spring a little earlier than here in the north. One of the highlights was visiting the Albertina Art Museum. A magnificent and beautiful building filled with lots of beautiful, impressive, wonderful, interesting, content-rich, but also provocative and difficult to interpret works of art. It was mainly the art of Monet and Picasso, but also an impressive collection of watercolors of Vienna Artists with 1800 Century that depicted how our Europe looked like. On the basement there was also an exhibition of Keith Haring.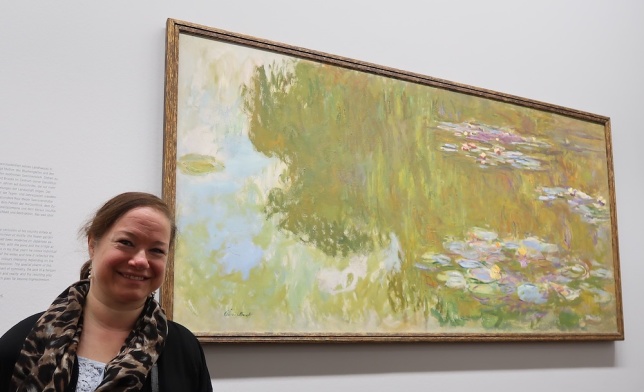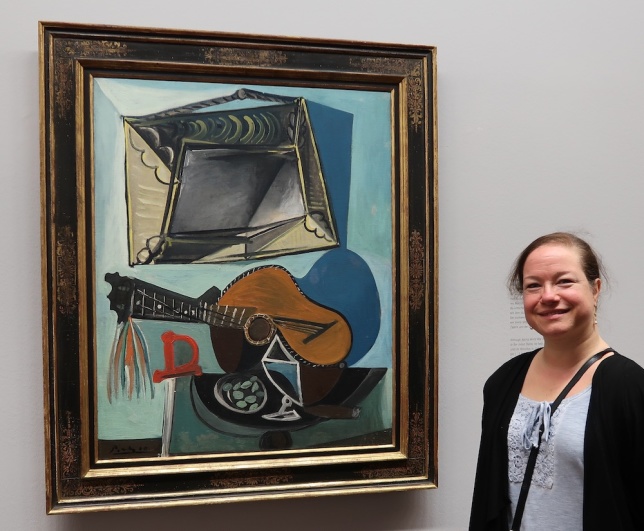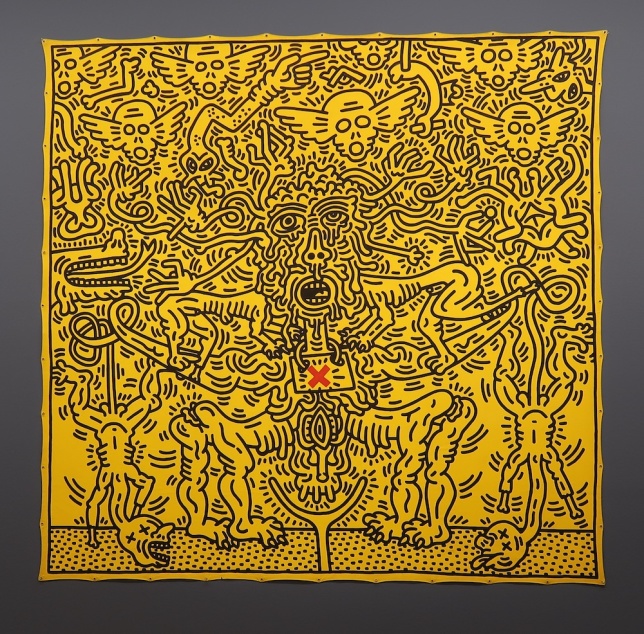 The Albertine Museum contains one of Europe's largest private collections of classical modern art and includes 500 works by Monet, Renoir, Cézanne, Chagall, Picasso, Modigliana, Matisse, Kandinsky and many more more or less cultured artists and span over 130 years of art history, from French impressionism to the present.
"Monet to Picasso - The Baltliner Collection" is a permanent loan to the museum by Rita and Herbert Batliner. Herbert is a lawyer from Liechtenstein. He was a good friend of Erich Stegman and Herbert helped Erich to establish the association of Mouth- & Foot Artists and publisher who still today after 60 years has a structure still working excellent with about 800 artists from all around the world.
It was really fascinating to get acquainted with all the artwork at the exhibition, but also to enjoy Herbert Batliner's own great art interest, which started in the 50's when he started collecting art.
A few years ago, Johnny Lindgren and I went to the various Swedish artists and foot artists and made small films that reflect our lives as artists. They are all available on the Mouth- & Foot Painters website (in Swedish). The film about me I have also posted on my own website.
Read the whole blog »