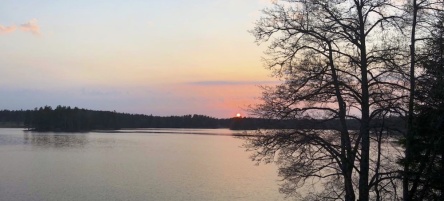 The spring made a late but brilliant entrance this year. Many Scandinavians have probably, just as I, experienced the start of this year as heavy. When the snow came, it lit up the winter darkness and it was really beautiful. But as the weeks went by and the cold weather persisted, it became really difficult. It's not often I feel low but I think the coldness and the darkness affected us all. A couple of other circumstances also did that the beginning of 2018 goes to history as a heavy start of a year.

But luckily, the winter does not last forever. One day, the warmth and sunshine came and we got a taste of summer. I lay in the sun one afternoon and sunbathed for an hour in just a bikini and it was lovely! The spring and the heat and the sun finally arrived and my soul began to live again, and the energy, enthusiasm and joy came back. Now I'm motivated to get started with all sorts of things again. For example, blogging!

Spring has, in the middle of the boring, offered surprises and encouragement that I want to share with me in my blogs now. I will also start uploading my various small movies I've made together with the amazing photographer and filmmaker Johnny Lindgren. A presentation movie of me is now available on YouTube in different languages.
Read the whole blog »