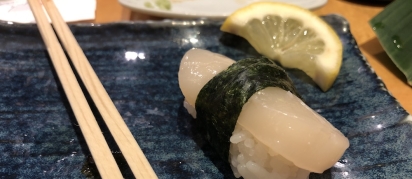 I really love being in Japan. Sure, there are things you get tired of, but the positives outweigh clearly. So many nice and warm people and great food.
On this tour I mostly sing in schools and churches but on the last day I'll have a concert in one of Osaka's concert halls.
We have already done in a lot of things, as follows: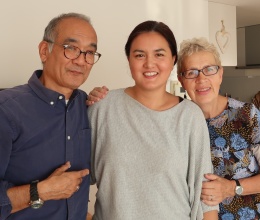 First we flew to Tokyo and stayed with our friends Okabe's in Chiba for a few nights. Gunilla, who comes from Lidköping in Sweden, I got to know many years ago when she came to one of my concerts in Japan. We got delicious dinners that Gunilla's husband Yochan made. We went to Anna's home, one of their two daughters (picture to the left) and Yochan's mom. We also passed by their church where many different activities take place and we also had time for some shopping.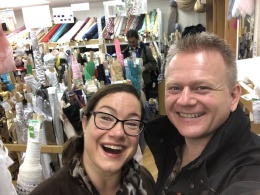 One of the days we also went on our own with the subway to Shinjuku in Tokyo where I've found the world's most beautiful fabric store - Okadaya, with five floors - and this weekend had a lot for sale! Shrinkle free fabrics with high quality and a jersey that is thin and smooth and keeps the shape through many launderings, such fabrics can not be found in the fabric stores in Sweden. So now there will be new clothes sewn.
So it was time for the concert tour and we took the Shinkansen down to Osaka and began with school performances:
Then we had a free day and got really lucky with the weather so we walked straight across the street to Osaka Castle, next door to our hotel. And then we also enjoyed sushi...
After more concerts, this time in churches: Kobe Shinsei Church where it was sold out (it has in fact been sold everywhere), the church is also called the "Hallelujah Chapel". Then the next day Kobe Shinsei Church where I had the great pleasure to meet the girl in the picture. We met 10 years ago when she was only about a year. Now she had a little sister too! On the evening the same day we went to Ibaragi Bible Church where we were treated to lovely song by a choir assembled exclusively for this evening with exactly one hundred singers. They sang several songs and it was so good. They had only had two rehearsals, really impressive! Their choir director Mr. Shinichiro Yamamoto is a fantastic pianist, and I was delighted to sing a couple songs together with him. But it is primarily his own audio and management company he works with and then he travels around and leads 26 choirs all over Osaka in Kansai area.
Then we had a free day again and then we went to see Mitsuno family. Mr. Sadayoshi Mitsuno was Anders Wihk and my manager for several years and last week Mr. Mitsuno passed away due to cancer. His wife and youngest daughter together with their pastor welcomed us to their home. It was a precious time and we shared memories and it was a joyous moment in the midst of missing Mr. Mitsuno.
Read the whole blog »