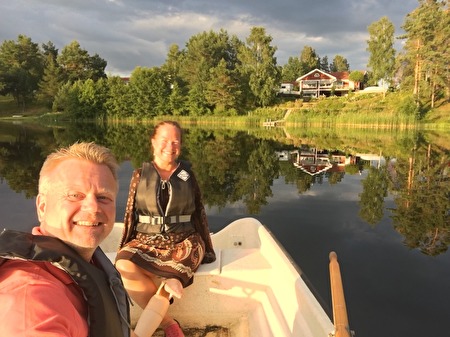 Oh, what a wonderful life I have! I don't know how many times I've said that this summer. Patrik and I were given and enjoyed a fantastic wedding and a lovely honeymoon trip in Europe. And now we have come home and we're trying to digest everything we've experienced.

Some of our friends have said – let's keep in touch and tell us how you're doing. So we have quite diligently posted pictures and anecdotes on social media. But everyone doesn't have Facebook or Instagram, etc. so here's a long blog about everything we've been to.

For those who are interested, please continue to read...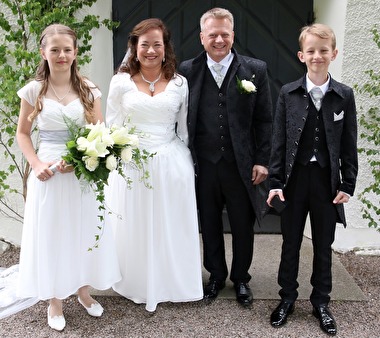 June 10, the bells were ringing at Barnarps church. Noomi and Silas, my niece and nephew, walked before us down the aisle. Noomi was wearing the bridal bouquet and Silas the ring. To the tunes of Intåg I sommarhagen (Entry into the summer garden) by Wilhelm Peterson-Berger we walked up to the altar where our priest Mr. Tojje Wirén met us with his warm smile. Being embraced by friends and family touched us deep and both Patrik and I really enjoyed the music and the words that were performed.

Thank you Tojje Wirén, Marika Lund, Millan Holm, Gittan & Andreas Glans, Robin Brokvist, Angelita Nooni, Joakim Holgersson, Magnus Ahlgren and Hasse Pettersson for making our wedding a wonderful moment and day!

I'll be good for you, surprisingly good for you – are words we'll take with us on our way together in life.

One of the songs performed at the wedding was Elvis 'Love Me Tender' as Miss Elvis has made a wonderful Swedish translation of. "Älska mig" has during this year become Patriks and mine "own song".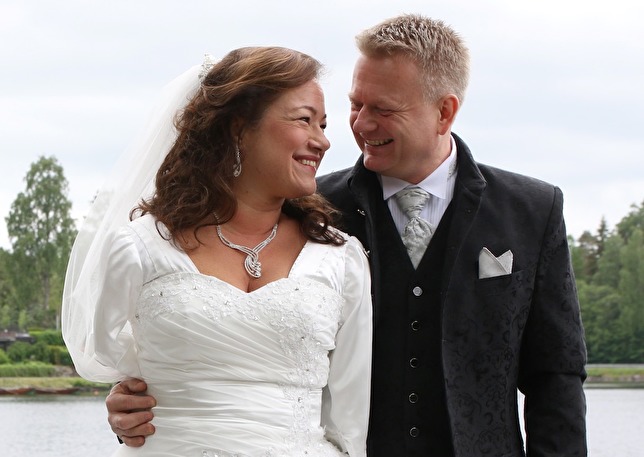 The dinner and party we had at Hooks Manor - this amazing place on earth. Anders Henriksson and Roger Ekström did a brilliant job as our toastmasters and the day and evening were filled with speeches, songs and music, good food and fellowship with near and dear that we'll never forget. It's hard to summarize everything, so here are some pictures from the church and from Hook...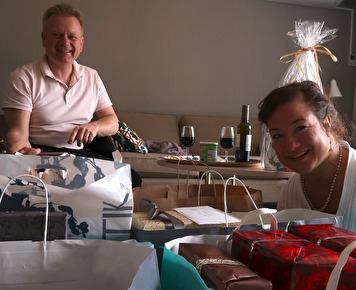 We stayed two nights at Hooks Manor. Enjoyed a long breakfast with many of our friends who also chose to stay overnight.

Then we started open all gifts. It took many hours... So many nice, beautiful and personal gifts we received. Incredible! We had intended to enjoy the mansion spa during Sunday but we didn't have the time.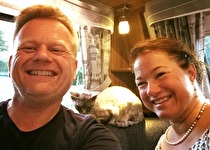 On Monday, we picked up our car and caravan. Packed us all in together with our cat Ferdinand who without protest let himself into his cage and then we went on our honeymoon down Europe. An amazing trip through Germany and the Mosel valley, the tunnels through Switzerland and enormously beautiful views...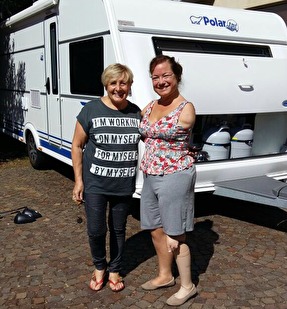 ...until we landed in Italy where I met Norma Ferre as I got to know 31 years ago at a Lions camp in Norway. We have not seen eachother since then so it was really fun!

She and her family gave us a fantastic stay and we visited Lago Maggiore and a wonderfully beautiful garden 'Giardino Di Villa Taranto' where we walked for hours and enjoyed.

Here are some pictures...
Then we went eastward for a few days. After an exciting day we sat down with a gin&tonic in our hands. We were heading to a campground in the centre of Verona, reached via serpentine roads and narrow streets that we passed with millimetre fitting. The campsite was called 'Castel San Pietro'. When we get there we miss the narrow entrance and arrive at a dead end ending at Castel San Pietro. There was no turnaround, so the only way was for Patrik to turn around the caravan by hand. It was just a small problem, the road was too narrow, so he had to push the caravan a bit further down the street where it could fit. Just needed to move a hopper and a moped to succeed to twist it around. Luckily a helpful German couple came by who offered their help. They wondered if he travelled by himself ?? "No, I have my wife in the car, but she has no arms" Patrik replied. I wonder exactly what they were thinking...
Finally we found another campsite. That night, the "week-of-regret" was over, we were still best friends and camping life worked really well, even though I guided us on too narrow roads and did not see the red warning text that clearly said we could not arrive with a caravan of our size. Then I also realized that my husband is patient and like to enjoy adventure of the same kind as me!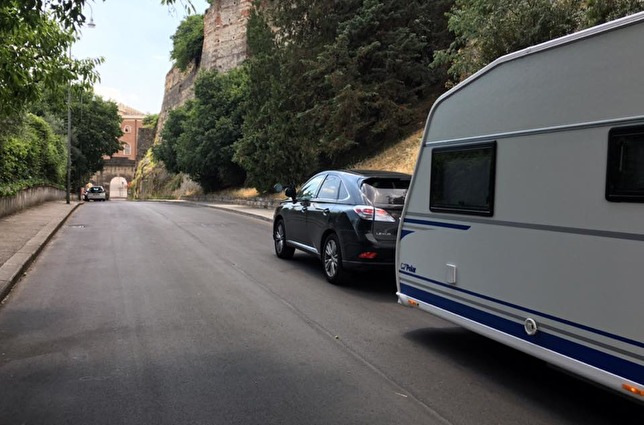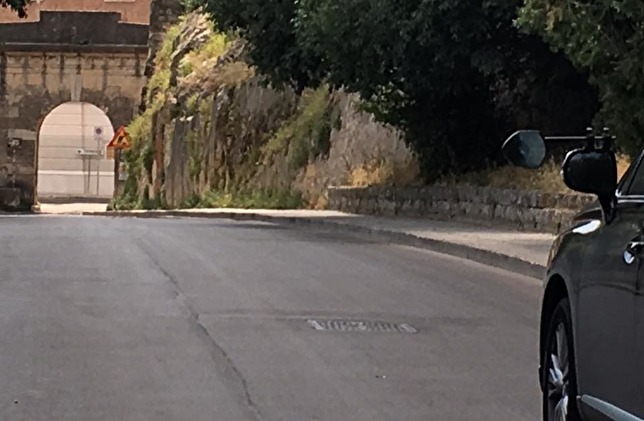 For a couple of days we went around and visited vineyards, saw huge beautiful views and enjoyed good food before taking a trip down to the Mediterranean coast, more specifically to the resort Aluna Paradù, Marina di Castagneto and met Patriks friends from Stockholm, Kjell & Elin and their children. There we forgot to take photos.
On our way back to the campsite in La Spezia where we left the caravan, we also managed to stop by Pisa! There we took a photo of proof!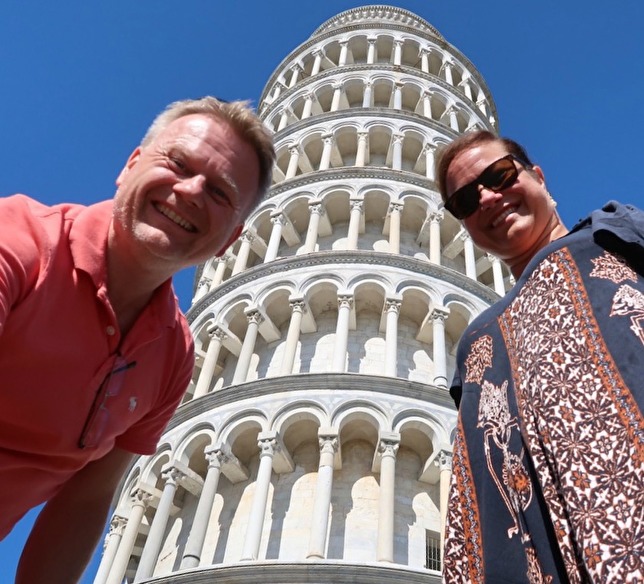 Then it was time for France and we drove along the entire coastline to Saint Raphaël where we checked in at a wonderful campsite where we lived neighbours, were swimming, made dinners and enjoyed a week together with Micael, Sophie, Walter and Hannah Forsmyr. There we also celebrated midsummer with herring and potatoes, Maypole and a Swedish flag. You really become more patriotic away from home!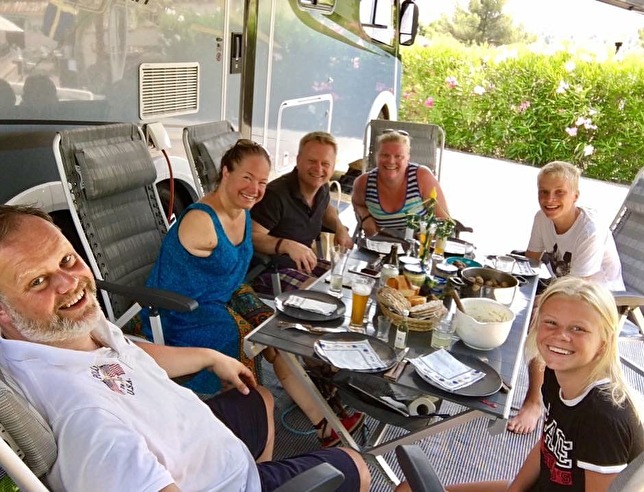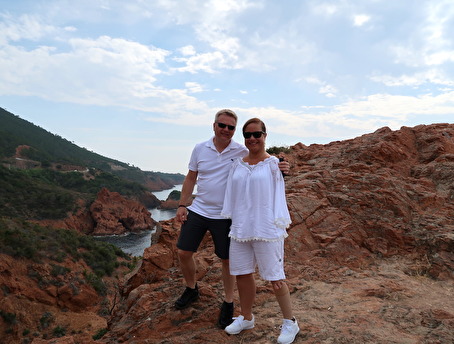 One of the days at the Riviera we went to Cannes and had lunch at McDonalds. The road to get there goes along the mountain ridges with beautiful views, a breath taking journey on narrow, hilly roads!!

In May each year, the annual Film Festival goes off, so when we were there they were still cleaning and erasing all the rubbish.

After that we continued to Monaco and Monte Carlo where we drove on winding and narrow roads where we met and saw amazing cars, one cooler than the other... but to live there?? Don't think so… Wherever you go you find hills, serpentine streets and a lot of people. But to see it and for a while be a tourist, drink a latte at Starbucks and drive on the streets where Monaco's Grand Prix runs every year was an unforgettable experience!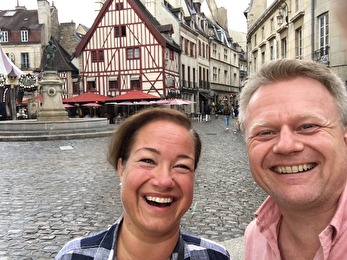 Time flies when you're having fun, and soon it was time to continue the journey north - home! We burned quite a few miles a day but still took one day off in the Burgundy district where we visited, among other things, La Cave de l'Ange Gardien in Beaune. A really charming wine cellar were we bought a wonderfully good sparkling wine and an amazing home made blackcurrant liqueur...
We also took us to the city of Dijon - a very cozy town. Next time we'll book a mustard tasting!

Read the whole blog »