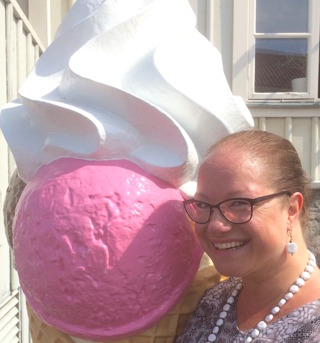 I have been on holiday on one of Swedens islands called Öland with my new caravan. Very nice! Driving the caravan I mean, and eat good food and ice cream and meet friends. But camping life, well ... a little too crowded for my taste to be honest. Now I'm back home and I truly enjoy that! Today I open my shop again. Sooo fun! And then I'll be travelling doing som concerts. Sooo fun! And in between being at home and swim and sunbathe and sleep and do sudoku and reading books. That is the best holiday for me!
And now when I opened the shop again after the summer break I was wondering what to choose for the "product of the month". Perhaps your towels is full of sand and stains and has worn out after all the summer beach visits. And perhaps it is time to invest in a new nice towel for the autumn? If that's the case, it is now you should take the opportunity to look at the lovely linen towels I have. Linnen is more durable than cotton towels and gets more comfortable the longer you use them. High quality, durable and a real investment you might say.
And finally, I would like to say, please continue to have a nice summer!
Read the whole blog »