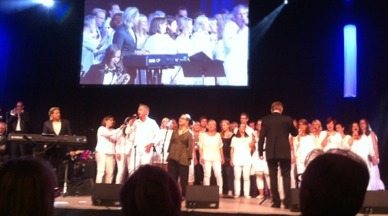 Now, the temperature drops and the air is fresh and clear. A wonderful time of the year I think. The school has started for all students and with it comes the autumn colds. Not nice. Even I have been hit, but I hope it disappears until Tuesday when my band and I have a concert in Malmö, at the southern part of Sweden.
Probably it was last weekend I got infected. Several cleared their throat and cough was around when I on Sunday sang along with the very talented and lovely choir Occapella and was featured as one of the soloists at this year's fundraising gala for the benefit of Rotary's Voi project. A nearly three-hour-long concert in a nearly packed gymnasium.
Really fun to be able to contribute to such a good fundraising.
Read the whole blog »