Greg Schneider, a very nice and skilled photographer, traveled with us throughout the tour. Please take a look at his amazing slide show from the tour in Japan.

SLIDESHOW - CLICK HERE
Read the whole blog »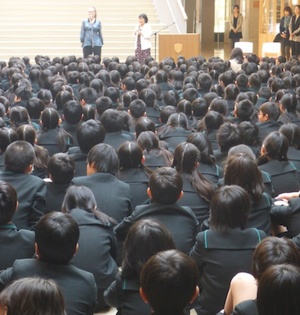 Now another tour in Japan has come to an end. How I love to be here! We started in Fukuoka where we were about a week and did all sorts of things. I visited for example a junior high school where I sang and talked about my life. A teve channel was there and filmed my visit and afterwards the reporter interviewed a few students. One student said: - I learned that it 's ok to be different!
I was also in the elementary school and met the most cutest and beautiful children.

During the week I also gave a lot of interviews. Both in radio, television and newspapers. To top it off , I was invited to the governor. He had lived for a period in Paris and had also been in Sweden a few times. It can easily be a little stiff at this type of events, but it was a lovely governor and we had a very nice time together.
On Friday, I sang and spoke at a women's lunch with about 700 ladies. Here in Japan they really know how to dress up themselves. One woman is fancier than the other and the noise level is quite high when we ate our lunch around the round and beautifully set tables in one of the Hilton hotel's beautiful rooms.
Read the whole blog »
After four days, with a lot of stubbornness, I must admit that I will not get my website to work as I want in WordPress. I can probably find a sullotion to my problems with an expert's help, but I'm a bit too chary, it will be expensive ...
So I met a good friend who recommended "hemsida24". After a few hours I realize that I found IT. What a fun site to build website in. Simple, clear and good instructions. I love it!
Read the whole blog »