I'm happy to see that you've found my home here in the internet world. I hope you'll enjoy yourself. There is a lot to take look at, and you find it under the headings at the top of this page.
Below you find news and the latest updates.

Heartly welcome!
Lena Maria Vendelius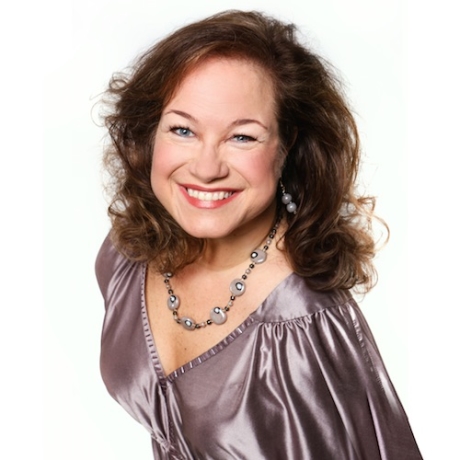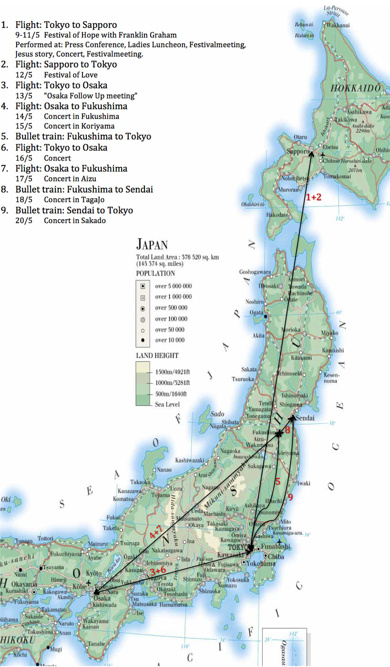 Sweden welcomed us home with 28 degrees and summer weather. The sun was up all evening and everything had become green. In my garden called the dandelions in all its glory. Amazing that so much can happen in just two weeks.
After a few days of rest, it is wonderful to think back on a successful and good tour. It was blessed in so many ways and I did not feel as tired as I usually do because I felt that I received so much myself this time.

Including the press conference which launched the tour, I had 14 appearances in 12 days and only the second to last day off. We made eight domestic flights, three train trips and spent a number of hours in cars and buses.

Every place we came to welcomed us warmly and it was both dear reunions and new acquaintances. It was great that in several places meet Japanese artists and musicians, and especially many gospel choirs.

There is so much to tell but I'll end with the concert in Aizu. The pianist Anders Wihk and I had a concert there 20 years ago when the congregation celebrated its 100th year anniversary. They rented the largest concert hall in the city and in the concert we gave all seats were full. It had never happened before. Now I had the pleasure to sing on their 120 year anniversary and the seats were full again. Many things happen in 20 years, and I referred to some of these and that life never goes as planned - it is often better! I ended by saying that if I am invited to sing at their 140 year anniversary, it will be the same year as I turn 65 years old. It may well be, in that case, my last concert before I retire! (if I retire - it's very fun to work)
Read the whole blog »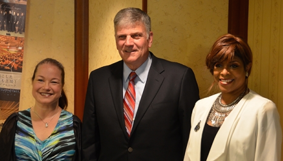 Now, a little more than half of the tour is done. I have never had such an intense tour before. 9 days in a row with appearances.
We started out with "Festival of Hope" in Sapporo. There I was one of many artists and the preacher was Billy Graham's son, Franklin Graham.
The venue we were in held 8000 people so it was really festive. In October last year, and most recently in March I had the pleasure of traveling with Will Graham, Franklin's son and the amazing singer Alfie Silas. Alfie and her husband Mike live in Los Angeles and are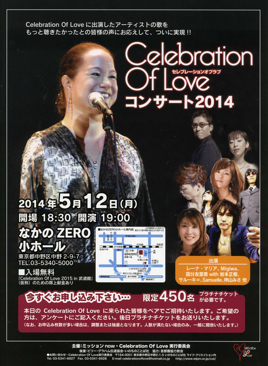 traveling with Franklin Graham all over the world with a group of wonderful musicians and singers.
With the festival were many more artists involved and I have to mention the Brooklyn Tabernacle singers, oh how it swung when they started! A youth choir with 500 joyful singers also joined in the gospelsongs, very impressive.

On Monday morning I flew to Tokyo and did a concert with other Japanese artists. Then my best friend here in Japan interpreted - Rutsuko Bedow. She has also made a Japanese translation of my song Japan In My Heart. To my great joy the song brings out a lot of response, especially now that the audience understands the text.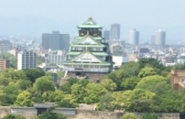 On Tuesday we flew further south to Osaka where we had lunch with the pastors and leaders of various churches in the city. A festival was arranged in 2010 here as well together with Billy Graham Evangelistic Assiciation. This day was my parents 47th wedding anniversary and we were treated to a fabulous lunch with an amazing view of Osaka Castle. In the evening there was a concert again!
Yesterday we flew north to Fukushima where Alfie and I had another concert and today, Thursday, we have a concert in the largest city here in Fukushima Prefecture called Koriyama. Late tonight, we'll take the Shinkansen to Tokyo station, taxi to Haneda Airport Hotel where we'll spend a few hours until tomorrow morning when we fly to Osaka again where I will sing on a school's 120 year anniversary.
A new blog will be written again in a few days!
Read the whole blog »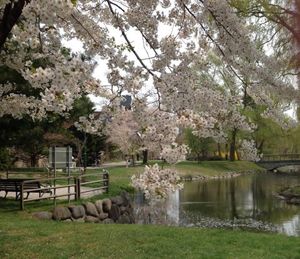 Now we finally reached Sapporo. After 26.5 hours of traveling it was nice to arrive at the hotel in this beautiful city. Surrounded by snow-capped mountains with air filled with the fragrance of cherry blossoms and the birds sing and croak. I'm so glad we got the chance to experience it at the last moment before the cherry blossoms leaves will snow down on the ground.
After a good night's sleep, we ate a hearty breakfast. My mother and father are my traveling companions on this tour. After breakfast they went out for a walk and I went to bed and slept for a few more hours. I love to sleep!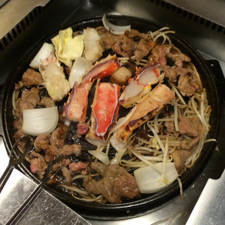 The whole day was very calm. Practiced for a while, including the new Japanese translation on Japan In My Heart done by my good friend Rutsuko Bedow, I also played Candy Crush and solved Sudoku.
Tonight for dinner we had Mongolian barbecue. Sapporo, located on Japan's northernmost island Hokkaido, is famous for its fine seafood, vegetables and lamb. So that was what was served!
Super oishi! = Really good!
Read the whole blog »
Would you like to receive Lena Marias' personal newsletters? Fill out the form: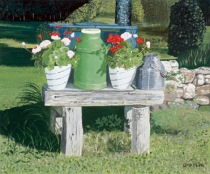 Lena Maria is part of the Mouth- & Foot-painters together with around 800 artists from all over the world.

READ MORE»