The Lena Maria & Friends Foundation
collects money to help people with different disabilities
with special needs worldwide.

This YouTube film presents some of the projects.
Want to support future donations?
Use The Lena Maria & Friends
Foundation's account:
IBAN: SE04 1200 0000 0123 5022 3124
BIC/SWIFT: DABASESX
Danske Bank
Skolgatan 3, 55112 Jönköping, Sweden
The Lena Maria & Friends Foundation will engage in diaconal activities with and for persons who, because of disability, illness or age, need special assistance.

In collaboration with both sister organizations abroad as representatives of churches and Christian relief agencies, the Foundation wants to conduct ancillary activities consisting of assistance to disabled people in other countries.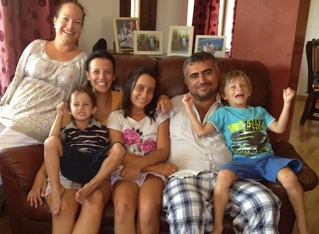 the Nichescu Family

Some years ago Lena Maria helped a Romanian family – the family Nichescu. Sergiu, the man in the family, has no arms just like Lena Maria, but their lives have been lived quite differently. In 2004 and 2005, Lena Maria had charity concerts to collect money so Sergiu and his family could buy their own apartment.

This was the beginning of a new foundation that Lena Maria started. On her tours she sometimes meets people with disabilities that are in need of help. Through her Foundation she can now raise money and give help.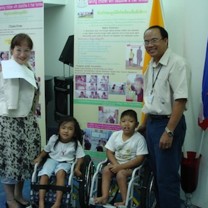 CCD

On Lena Marias' tours in Thailand she has had charity concerts raising money for an orphanage in Bangkok with children with various disabilities. In Thailand, it is still a great shame to have a child with a disability. Many believe that their family has bad Karma. If a family chose to keep such a child it causes difficulties for the whole family. This is why many mothers chose or are forced to abandon her child. The orphanage that Lena Maria supports through her Foundation is run by Christians and in collaboration with hospitals and other agencies in the community they take care of helpless children.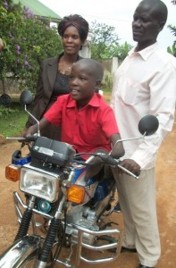 You can read more about the orphanage on their website: www.ccdthailand.org

Moses Murungi

In 2012 Lena Maria helped a boy in Uganda through her Foundation. His name is Moses Murungi and he was born with out limbs as you see on the photos. Moses goes to a regular school and holds the pencil between his armlimbs when he writes. He is doing really well!

The need Moses had was something to travel on to the school in morning and home later in the day. The older he gets, the harder it is to carry him. So the Foundation has now bought his family a "Bodaboda".
Would you like to receive Lena Marias' personal newsletters? Fill out the form: