Bälte i läder/Leather Belt - Morris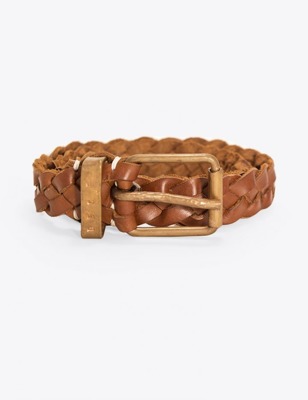 List Price:
349 kr
279 kr
Inc. 25% Tax
You Save:
70 kr (20%)
Type:
Bälte i läder/Leather Belt - Morris 3 cm
Quantity:
In Stock
Flätat läderbälte med handgjort kopparspänne.
Material: 100% äkta läder
Färg: Brun
Bredd: 3 cm
Längd: 110 cm
DECE (som betyder "varför?" på rumänska) blev en bro för att hjälpa människor att fly från cykler av generationsfattigdom, utveckla färdigheter och potential hos individer, återställa värdighet och ge människor möjlighet att försörja sina familjer.
DECE är en del av ett holistiskt samhällsutvecklingsprogram som utvecklats sedan 2009 tillsammans med familjer som lever under mycket svåra omständigheter.
Deras mål är att producera högkvalitativa handgjorda produkter med bästa möjliga material. De försöker använda miljövänliga material eftersom de tror på hållbarhet från början till slut.
Design och produktion: DECE, Rumänien
Maila mig
om du har någon fråga.
_______________________________________________________________________
Braided leather belt with hand crafted copper buckle.
Material: 100% Genuine leather
Color: Brown
Width: 3 cm
Length: 110 cm
DECE (which means "WHY?" in Romanian) became a bridge to help people escape from cycles of generational poverty, developing skills and potential in individuals, restoring dignity and empowering people to provide for their families.
DECE is part of an holistic community development program developed over many years of working alongside families living in very difficult circumstances.
Their mission is to produce the highest quality handmade products using the best possible materials. They try to use environmentally friendly materials because they believe in sustainability from start to finish.
Design & production: DECE, Romania
Email me
if you have any questions.