Panelborste/ Cake Tester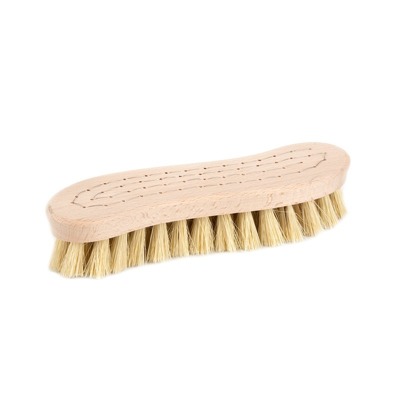 Price:
125 kr
Inc. 25% Tax
Type:
Panelborste/Scrubbing Brush
Quantity:
In Stock
En allsidig borste för grövre rengöring som kan användas för att skura såväl trasmattor, golv och badkar mm. Fint s-formad borste som ligger skönt i handen. Handdragen med borst av vit fiber.
S-formad, Bok, Vit fiber
Vikt 159 g
Längd 21,3 cm
Bredd 5,5 cm
Höjd 4 cm
I slutet av 1800-talet startades ett litet borstbinderi i Stockholm. Det blev en lyckad rörelse, så lyckad att den finns än idag. Nu, som då dras varje borste för hand av människor som saknar synförmåga. Handgjort och fingertoppskänsla får här en ny dimension.
Alla borstarna är av exklusiv design och tillverkas mestadels av naturmaterial.
Design & tillverkning: Iris Hantverk.
Maila mig
om du vill beställa något som jag inte har i lager.
_______________________________________________________________________
Cake tester in oiled birch for cooking and baking. Suitable for brush rack 2190-00.
S-shaped, Beech, Tampico fibre
Weight 159 g
Length 21,3 cm
Width 5,5 cm
Height 4 cm
In the late 1900s century a small brush manufacturing started out in Stockholm. It was a successful movement so successful that it remains today. Now, as then, every brush is made by hand by visually impaired craftsmen. It brings new dimensions to the concept of sensitively made by hand.
All brushes are of exclusive design and made mostly from natural materials.
Design & production: Iris Hantverk.
Email me
if you want to order something that I don´t have in stock.