Näver/Birch Bark - Väggkorg/Wall Basket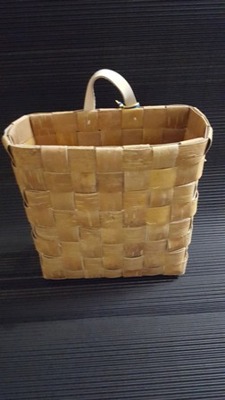 List Price:
1 550 kr
1 239 kr
Inc. 25% Tax
You Save:
311 kr (20%)
Type:
Näver väggkorg/Birch bark wall basket
Quantity:
In Stock
En stor vacker väggkorg som passar till vantar, halsdukar, sockor i hallen t.ex. eller fin att bara hänga upp på väggen! Traditionellt handgjord av Bosse Andersson som är mycket skicklig på att skapa näverdekorationer.
Storlek: 23 cm x 25 cm x 10 cm
Hemslöjden Borås är ett välkänt begrepp med gamla anor vars ambition är att söka tillbaka till det ursprungliga: tradition, kvalitet, hantverk i nygammal tappning!
Sjuhäradsbygden är full av fina traditioner inom hemslöjd, ett hantverk som var nödvändigt för att överleva. De magra tegarna gav inte så mycket så precis som i många andra sammanhang blev "nöden uppfinningens moder". Varorna såldes land och rike runt av Knallarna, bygdens gårdfarihandlare som redan på 1600-talet fick Kunglig rättighet att sälja varor över hela landet. Hemslöjden Borås/Sjuhärad - tradition, kvalitet i nygammal tappning!
Design & tillverkning: Hemslöjden Borås/Sjuhärad.
Maila mig
om du vill beställa något som jag inte har i lager.
_______________________________________________________________________ A large beautiful wall basket suitable for for mittens, scarves, socks in the hallway eg. or nice to just hang up on the wall! Traditionally handmade by Bosse Andersson who is very skilled at creating birch bark decorations.
Size: 23 cm x 25 cm x 10 cm
Hemslöjden Borås is a well-known concept of ancient ancestry whose ambition is to seek back to the original: tradition, quality, craftsmanship in an old-new way!
"Sjuhäradsbygden" in Sweden is full of fine traditions in crafts, a craft that was necessary to survive. The lean soil did not give much so just like many other times the need became "the mother of the invention". The goods were sold all over by "Knallarna", the farm yard traders who, in the 17th century, got the permission from the King to sell goods throughout the country. Hemslöjden Borås/Sjuhärad - tradition, quality in an old-new way!
Design & production: Hemslöjden Borås/Sjuhärad.
Email me
if you have any questions.