Salva/Salve – Ringblomma/Marigold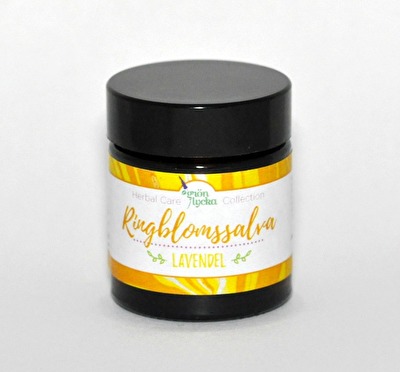 Price:
135 kr
Inc. 25% Tax
Type:
Ringblomssalva/Marigold salve
Quantity:
In Stock
En handgjord ekologisk ringblomssalva som tillverkas från grunden enligt gamla traditioner. En salva som är självklar i varje hems husapotek. Innehåller extrakt av ringblomma, styvmorsviol och vitamin E som mjukgör, återfuktar och ger huden elasticitet. Den innehåller också eterisk lavendelolja. Lavendel är känd för att lugna irriterad och skadad hud. Bara doften sägs lugna sinnet.
Hudtyp: Torr och skadad hud.
Instruktion: Smörj ett tunt lager på torr eller fuktad hud. Upprepa vid behov.
Ingridienser: Canola Oil*(Rapsolja), Cera Alba*(Bivax), Calendula Officinalis (Ringblomma) Extract*, Viola Tricolor (Styvmorsviol) Extract*, Tocopherol, Lavandula Angustifolia (Lavendel) Herb Oil*, Linalool**, Geraniol**, Limonene**.
*Ekologisk råvara
**Naturligt i eteriska oljor
Grön Lycka är ett exklusivt spa sortiment som innehåller generösa mängder av noga utvalda naturliga och ekologiska råvaror som vårdar, stärker och återfuktar huden. Inspirationen är hämtad direkt från naturen och produkterna tillverkas för hand med passion och perfektion i små satser. Fokus ligger på ört- & aromaterapi för att stötta kroppens egna funktioner. Grön lycka har en unik design och förpackning.
Design & tillverkning: Grön Lycka.
Maila mig
om du vill beställa något som jag inte har i lager.
_______________________________________________________________________
A handmade organic marigold salve made from the ground according to ancient traditions. An ointment that belongs in every family home's pharmacy. Contains extract of marigold, wild pansy and vitamin E that softens, moisturizes and gives skin elasticity. It also contains essential lavender oil. Lavender is known to calm irritated and damaged skin. Only the smell is said to calm the mind.
Skin type: Dry and damaged skin.
Instruction: Lubricate a thin layer on dry or dampened skin. Repeat if necessary.
Ingredients: Canola Oil * (Rapsolja), Cera Alba * (Beeswax), Calendula Officinalis (Ring Flower) Extract *, Viola Tricolor (Styvmorsviol) Extract *, Tocopherol, Lavandula Angustifolia (Lavender) Herb Oil *, Linalool **, Geraniol ** , Limonene **.
* Organic raw material
** Natural in essential oils
"Grön Lycka" (Green Happiness) is an exclusive spa assortment that contains generous amounts of carefully selected natural and organic ingredients that nurture, strengthen and moisturise the skin. Inspiration is taken directly from nature and the products are manufactured by hand with passion and perfection in small batches. The focus is on herbal and aromatherapy to support the body's own functions. "Grön Lycka" has a unique design and packaging.
Design & production: Grön Lycka.
Email me
if you have any questions.