Väska/Bag - Vegetation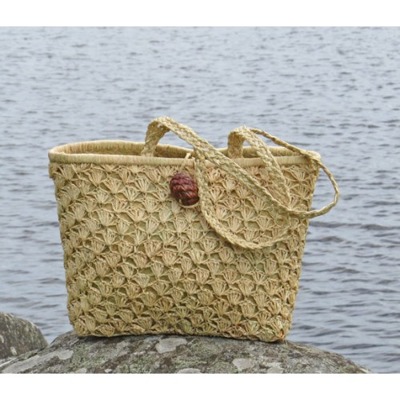 Price:
299 kr
Inc. 25% Tax
Out of Stock
En stilren axelväska med utsida av virkad raffia, insida av flätad vass. Stängs med dekorativ knapp, en frökapsel från raffiapalmen. Tillverkad av eko-reko material och ett riktigt kvalitetshantverk. Ett hållbart mode för en hållbar livsstil.
Storlek: Höjd 25 cm, Botten 28 cm x 9 cm, Övre bredd 37 cm
Färger: Naturvit
Hela väskan är tillverkad av förnyelsebart naturmaterial - soltorkade palmblad - som har virkats. Arbetet ger viktiga kontantinkomster till kvinnor på den Madagaskiska landsbygden. Orten de bor på har mager mark. Självhushållningsjordbruk kan inte föda familjerna, än mindre ge avkastning att sälja. Hantverk spelar en viktig roll i hushållets ekonomi. Att det är en verksamhet som drivs av kvinnor kan tänkas ytterligare förstärka dess positiva effekter.
Mer om hur väskorna tillverkas - se
La Maison Afrique FAIR TRADE
hemsida. På deras hemsida kan du se hela deras sortement.
Maila mig
om du vill beställa något som jag inte har i lager.
_______________________________________________________________________
A sleek shoulder bag with an outside of elastic raffia, inside of braided wax. Closed with decorative button, a fry capsule from the raffia palm. It is made of echo-proof materials and a true quality craftsmanship. Sustainable fashion for a stylish and sustainable lifestyle.
Size: Height 25 cm, Bottom 28 cm x 9 cm, Upper width 37 cm
Colours: Naturewhite
The entire bag is made of renewable, sustainable natural materials - sundried palm leaves - that has been crochet. The work gives important income to women on the Malagasy countryside. The soil is too poor for self-subsistence agriculture, making crops for cash impossible. Crafts are essential for household income. That the activity is managed by women might further enhance its positive effects.
More about the artisans and the craft on
La Maison Afrique FAIR TRADE
website. On their website you can see all their variety ments.
Email me
if you want to order something that I don´t have in stock.