Väska/Bag - Säck & Aska/Sackcloth & Ashes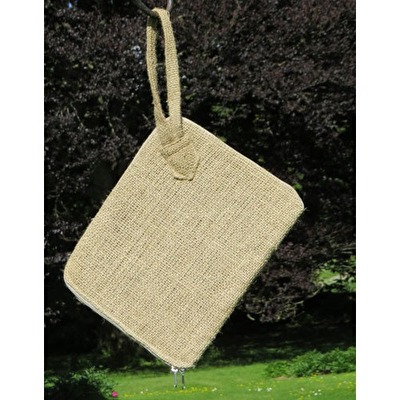 Price:
165 kr
Inc. 25% Tax
Quantity:
In Stock
En fairtrade-data case eller dokumentportfölj i vintagestil med en utsida av handvävd mjuk, ljust gråbrun jute. Fodrad med tyg och en blixtlåsstängning som löper runt tre sidor. Ett diagonalt praktiskt placerat handtag. Tillverkad av eko-reko material och ett riktigt kvalitetshantverk. Ett hållbart mode för en hållbar livsstil.
Storlek: 34 cm x 26 cm
Hela väskan är tillverkad av förnyelsebart naturmaterial - soltorkade palmblad - som har virkats. Arbetet ger viktiga kontantinkomster till kvinnor på den Madagaskiska landsbygden. Orten de bor på har mager mark. Självhushållningsjordbruk kan inte föda familjerna, än mindre ge avkastning att sälja. Hantverk spelar en viktig roll i hushållets ekonomi. Att det är en verksamhet som drivs av kvinnor kan tänkas ytterligare förstärka dess positiva effekter.
Mer information om hantverket och hantverkarna finns på:
La Maison Afrique FAIR TRADE
. På deras hemsida kan du se hela deras sortement.
Maila mig
om du vill beställa något som jag inte har i lager.
_______________________________________________________________________
A data case or document portfolio in vintage style with hand-woven soft light gray-brown jutean on the outside. Lined with fabric and a zip closure that runs around three sides. A diagonally handy placed handle. It is made of echo-proof materials and a true quality craftsmanship. Sustainable fashion for a stylish and sustainable lifestyle.
Size: 34 cm x 26 cm
The entire bag is made of renewable, sustainable natural materials - sundried palm leaves - that has been crochet. The work gives important income to women on the Malagasy countryside. The soil is too poor for self-subsistence agriculture, making crops for cash impossible. Crafts are essential for household income. That the activity is managed by women might further enhance its positive effects.
More info about the artisans and the crafting is found on:
La Maison Afrique FAIR TRADE
. On their website you can see all their variety ments.
Email me
if you want to order something that I don´t have in stock.