Väska/Bag - Regnbåge/Rainbow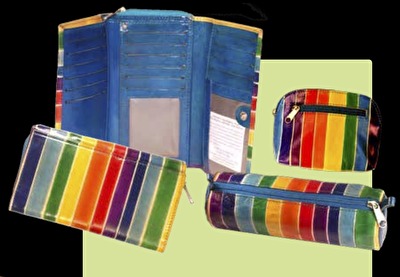 Price:
165 kr
Inc. 25% Tax
Quantity:
En mycket praktisk plånbok med flera fack för sedlar, kort och en myntficka med dragkedja även genomskinnliga fickor för körkort.
Ett pennfordral med mjukt skinn och dragkedja och en fin börs med dragkedja som också har en ytterficka, även den stängs med dragkedja.
Storlek:
Plånbok: 9,5x17cm
Börs: 9x13cm
Pennfodral: Längd 18cm
Börsarna är tillverkade av getläder och kommer från Indien och Equitable Marketing Association (EMA) i Kolkata. Det är ett initiativ för social och företagsmässig rättvisa. Den grundades 1994 med målet att ge fattiga indiska hantverkare en möjlighet att försörja sig på sitt traditionella hantverk. De följer grundtankarna om Fair Tade och hjälper hantverkarna med produktutveckling, råvaruanska ning, kvalitetskontroll samt utbildning. Fokus är att ge arbete, bra betalt, goda arbetsvillkor och marknadsföra produkterna åt producenterna.
På hemsidan
www.northsouth-fairtrade.se
kan du se hela sortementet.
Maila mig
om du vill beställa något som jag inte har i lager.
_______________________________________________________________________
A very practical wallet with multiple compartments for banknotes, cards and a coin pocket with zipper even translucent pockets for driving licenses.
A pencil case with soft leather and zipper and a nice zippered coin purse that also has an outer zipperpocket.
Size:
Wallet: 9,5x17cm
Purse: 9x13cm
Pencil case: Length 18cm
The purses are made of goat leather and come from India and the Equitable Marketing Association (EMA) in Kolkata. It is an initiative for social and corporate justice. It was founded in 1994 with the goal of providing poor Indian craftsmen an opportunity to support their traditional crafts. They follow the basic principles of Fair Tade and help the craftsmen with product development, raw materials development, quality control and education. The focus is to provide work, well paid, good working conditions and market the products to the producers.
On the website
www.northsouth-fairtrade.se
you can see all variety ments.
Email me
if you want to order something that I don´t have in stock.