Torkad frukt/Dried fruit - Paranötter/Brazil nuts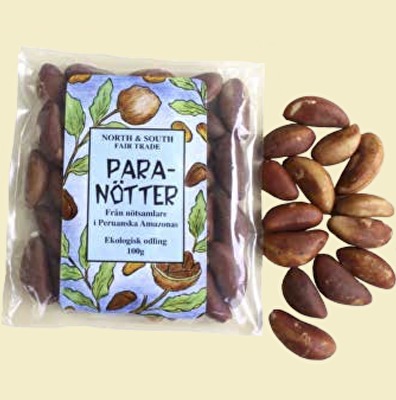 Price:
25 kr
Inc. 12% Tax
Quantity:
In Stock
Paranötter – Ett projekt för att ge människor arbete på lång sikt och för att rädda regnskogarna i Peru!
Ekologiska paranötter 100g
Det hårda skalet runt paranötterna öppnas försiktigt för hand så att den bruna hinnan är intakt. I hinnan finns antioxidanter och den skyddande hinnan gör nöten ännu godare då nöten inte härsknar så snabbt.
Paranötter kan inte odlas, då pollineringen av blommorna sker med insekter som bara trivs i jungfrulig regnskog. I stället för att tjäna snabba pengar genom att hugga ned träden i Amazonas kan castaneros, nötsamlarna, under lång tid få en anständig inkomst istället.
På hemsidan
www.northsouth-fairtrade.se
kan du se hela sortementet.
Maila mig
om du vill beställa något som jag inte har i lager.
_______________________________________________________________________
Brazil Nuts - A project to provide people work in the long term and to save the rain forests of Peru!
Organic Brazil Nuts 100g
The hard shell around the Brazil nuts is carefully opened by hand so that the brown skin is intact. In the skin are anti-oxidants and the protective skin makes the nut even more tasty when the nut does not turn rancid so quickly.
Brazil nuts can not be cultivated, as pollination of the flowers occurs with insects that only livs in the virgin rainforest. Instead of earning quick money by chopping down the trees in the Amazon, castaneros, the nuts collectors, can get a decent income for a long time.
On the website
www.northsouth-fairtrade.se
you can see all variety ments.
Email me
if you want to order something that I don´t have in stock.