Torkad frukt/Dried fruit - Bananer/Banana Mini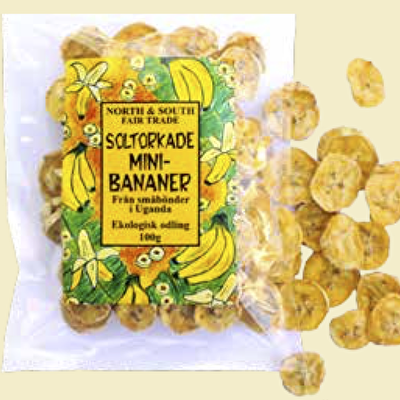 Price:
25 kr
Inc. 12% Tax
Quantity:
In Stock
Soltorkade minibananer, en delikatess, från Uganda.
Ekologiska soltorkade minibananer 100g
Ekologiskt odlade bananer från några små gårdar i distrikten Masaka, Mubende och Luwero. Jordarna där är mycket bra och bananerna får en alldeles särskild fin sötma. Inget socker är tillsatt och självklart är det inte heller några andra tillsatser.
Bananerna skärs till, soltorkas och förpackas av familjeföretaget Bio Uganda. Ett företag som för övrigt har fått svenskt SIDA-stöd. Bönderna får bra betalt för sina bananer och erbjuds rådgivning och kurser i ekologisk odling. En typisk odlare har en hektar mark med djur där familjen odlar minibananer och grödor för egen konsumtion.
På hemsidan
www.northsouth-fairtrade.se
kan du se hela sortementet.
Maila mig
om du vill beställa något som jag inte har i lager.
_______________________________________________________________________
Sun dried mini bananas from Uganda.
Organic sun dried mini bananas 100g
Organically grown bananas from some small farms in the districts of Masaka, Mubende and Luwero. The soil there is very good and the bananas get a very special fine sweetness. No sugar is added and of course there are no other additives.
The bananas are cut, sun dried and packed by the family company Bio Uganda. A company that has also received Swedish SIDA support. The farmers get well paid for their bananas and are offered advice and courses in organic farming. A typical breeder has one hectare of land with animals where the family grows mini bananas and crops for their own consumption.
On the website
www.northsouth-fairtrade.se
you can see all variety ments.
Email me
if you want to order something that I don´t have in stock.