Smycken/Jewelry - Artesanias Juanita: Julhalsband/Christmas Necklace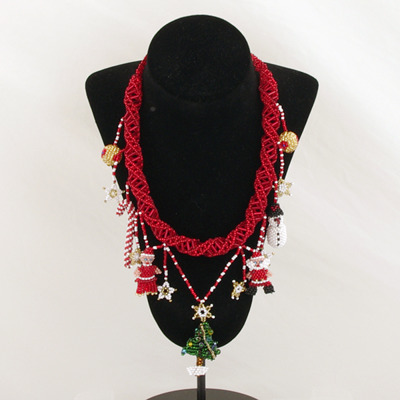 Price:
295 kr
Inc. 25% Tax
Type:
Julhalsband/Christmas Necklace
Quantity:
In Stock
Storlek:
50 cm. Halsbandet stängs med en T-bygel som träs igenom en ögla.
Material:
Glaspärlor, Ingen metall
Årets absolut juligaste halsband är en riktig snackis i butiken! Juligare än så här blir det inte med tomtemor, tomtefar, julgran, snögubbe, polkagris, julkulor och stjärnor.
Julhalsbanden skapas av Artesanias Juanita, ca 200 Mayakvinnor och män ute på landsbygden runt byn Santiago Atitlan. Genom smycketillverkningen har dom en stadig inkomst och möjlighet till förbättrad levnadsstandard.
Leverantör:
www.fairmonkey.se
På deras hemsida kan du se hela deras sortement.
Maila mig
om du vill beställa något som jag inte har i lager.
_______________________________________________________________________ Size:
50 cm. The necklace closes with a T-bracket threaded through a loop.
Material:
Glass Beads, No metal
The year's funniest necklace is a real hot item in the store! More Christmas than thisit will not be with Santa Claus, with wife, Christmas tree, snowman, candy cane, Christmas Balls and stars.
The Christmas Necklaces are created by Artesanias Juanita, around 200 Maya Women and Men in the countryside around the village of Santiago Atitlan. Through the jewelry production, they have a steady income and the opportunity for improved living standards.
Supplier:
www.fairmonkey.se
On their website you can see all their variety ments.
Email me
if you want to order something that I don´t have in stock.