DVD: Lena Maria möter Afrika/Lena Maria meets Africa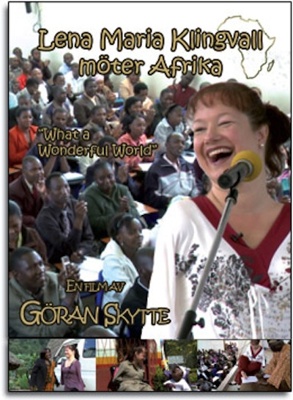 Ord. pris:
189 kr
120 kr
Inkl. 25% Moms
Du sparar:
69 kr (37%)
Antal:
Lena Maria Klingvall föddes i Sverige utan armar och med vänster ben hälften så långt som det högra normala benet. Hon blev en internationell sångstjärna, olympisk idrottskvinna, författare - och kristen. Hon föreläser idag i stora delar av världen.

Anneth Munga växte upp hos en svensk EFS-missionär i Tanzania, Mama Ulla Svensson. Hon blev präst, verksam i Sverige och Tanzania. Av sin kyrka fick Anneth kallelsen att starta och leda SEKUCo, ett helt nytt universitet i regnskogen på 1400 meters höjd i nord-östra Tanzania. SEKUCo är ett universitet på kristen grund, med särskild omsorg om "handikapp-frågor".

Göran Skytte, en av Sveriges mest erfarna journalister, har i flera filmer berättat om SEKUCo – som han anser vara "ett under i vår tid". I denna dokumentär sammanför han Lena Maria Klingvall med Anneth Munga och studenterna vid SEKUCo. Ett på många sätt unikt möte.

Lena Maria sjunger och berättar om sitt liv. Studenterna är både kristna och muslimer – och i en starkt gripande scen sjunger de tillsammans med Lena Maria den svenska psalmen O Store Gud.
________________________________________________________________________
Lena Maria Klingvall was born in Sweden without arms and with the left leg half as long as the right normal leg. She became an international singing star, Olympic sportswoman, author - and Christian. She lectures today in many parts of the world.

Anneth Munga grew up with a Swedish EFS missionary in Tanzania, Mama Ulla Svensson. She became a priest , active in Sweden and Tanzania. Anneth got the call from her church to start and manage SEKUCo , a new university in the rain forest at 1400 m in the north- eastern Tanzania. SEKUCo is a university on Christian principles, with particular attention at "disability issues".

Göran Skytte, one of Sweden's most experienced journalists, has in several films talked about SEKUCo - which he considers "a miracle of our time". In this documentary he brings Lena Maria Klingvall with Anneth Munga and students at SEKUCo together. One in many ways unique encounter .

Lena Maria sings and tells about his life. The students are both Christians and Muslims - and in a highly poignant scene they sing along with Lena Maria in the Swedish hymn, How Great Thou Art.