Rotfruktsborste/Pan Brush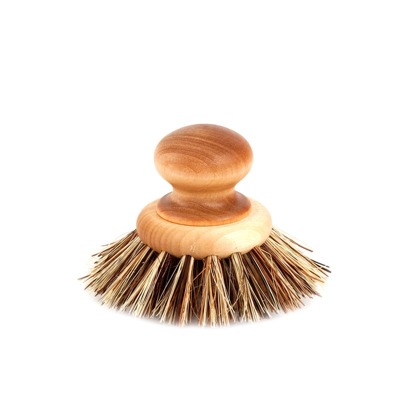 Price:
199 kr
Inc. 25% Tax
Out of Stock
Rund rotfruktsborste med knopp i oljad björk och unionblandning. Passar utmärkt för att rengöra potatis och rotfrukter. Men borstens utformning samt rejäla knopp gör att denna kraftiga borste även passar för rengöring av hårt smutsade grytor och pannor. Passar till knopplist 2190-00.
Oljad björk, Unionblandning
Vikt 50 g
Höjd 7 cm
Diameter 9 cm
I slutet av 1800-talet startades ett litet borstbinderi i Stockholm. Det blev en lyckad rörelse, så lyckad att den finns än idag. Nu, som då dras varje borste för hand av människor som saknar synförmåga. Handgjort och fingertoppskänsla får här en ny dimension.
Alla borstarna är av exklusiv design och tillverkas mestadels av naturmaterial.
I rullistan finns att beställa det jag har i lager.
Maila mig
om du vill beställa något som jag inte har i lager.
Design & tillverkning: Iris Hantverk.
_______________________________________________________________________
Pan brush in birch and union mixture. Ideal to clean potatoes and root vegetables. But the brush design and sturdy knob also makes this brush suitable for cleaning heavily soiled pots and pans. Suitable for brush rack 2190-00.
Oiltreated birch, Union mixture
Weight 50 g
Height 7 cm
Diameter 9 cm
In the late 1900s century a small brush manufacturing started out in Stockholm. It was a successful movement so successful that it remains today. Now, as then, every brush is made by hand by visually impaired craftsmen. It brings new dimensions to the concept of sensitively made by hand.
All brushes are of exclusive design and made mostly from natural materials.
In the drop down list you can order what I have in stock.
Email me
if you want to order something that I don´t have in stock.
Design & production: Iris Hantverk.