Braskotte/Fire starter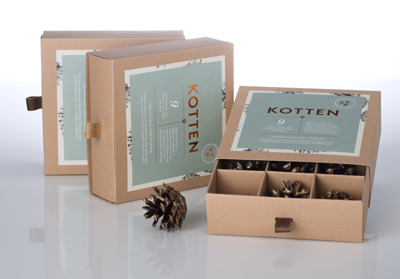 Price:
149 kr
Inc. 25% Tax
Type:
Braskotte/Fire starter 9-pack
Sold Out
Presentbox med braskottar
9 stycken kottar till 9 brasor eller grillar i en snygg och exklusiv förpackning i papper med läderhandtag. Kottarna är behandlade med stearin från Delsbo Candles, dvs Svanen-märkta stearinljus.
Att elda med en kotten är inte alls svårt. Faktum är att det är enklare att få en brasa att brinna snabbt med en Kotte än med de flesta andra alternativ på marknaden. Om du inte orkar läsa hela den här instruktionen så kom bara ihåg en enda sak: Vänd kotten uppochner, precis som den ligger på bilden och i logotypen. Tänd på den underifrån så att fjällen brinner och låt den generöst dela med sig av stearingen till närliggande vedklampar eller briketter.
Design & tillverkning: Incutank AB
Maila mig
om du har någon fråga.
_______________________________________________________________________
9 fire starters in a gift box
9 beautiful pine cone fire starters packed in an elegant and exclusive gift box. Use them to start a roaring fire or the perfect BBQ.
It is quite easy to use Kotten as a fire starter. Whatever you are trying to put on fire there is oone main thing to remember. Always put the pine cone with the scales pointing downwards. Just like the pine cones are shown inside the round logo.
Design & production: Incutank AB
Email me
if you have any questions.