Badanka/Bathduck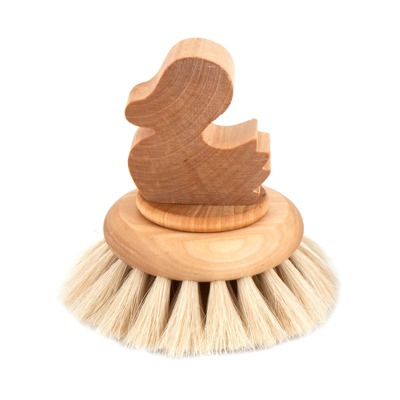 Price:
245 kr
Inc. 25% Tax
Quantity:
In Stock
Badborste Stor Badanka i oljad björk och hästtagel. Tagel är ett utmärkt material i badborstar då det är mjukt och följsamt samtidigt som det är kraftigt och tåligt och har en viss spänst. Tillsammans med en bra tvål ger den ett mjukt och skönt lödder för en perfekt rengöring. Det ihåliga taglet transporterar fukt vilket gör att slår du ut vattnet ordentligt efter användning så kommer taglet att kännas så gott som torrt. Låt borsten torka stående på taglet så att vattnet transporteras bort från trät som är mer känsligt för fukt.
Oljad björk, Hästtagel
Vikt 193 g
Längd 12 cm
Bredd 12 cm
Höjd 12,5 cm
I slutet av 1800-talet startades ett litet borstbinderi i Stockholm. Det blev en lyckad rörelse, så lyckad att den finns än idag. Nu, som då dras varje borste för hand av människor som saknar synförmåga. Handgjort och fingertoppskänsla får här en ny dimension.
Alla borstarna är av exklusiv design och tillverkas mestadels av naturmaterial.
Design & tillverkning: Iris Hantverk.
Maila mig
om du vill beställa något som jag inte har i lager.
_______________________________________________________________________
Bath Brush "Duck" in birch and horse hair. Horse hair is an excellent material in bathing brushes because it is soft and pliable while it is sturdy and durable and has a certain elasticity. Along with a good soap it gives a soft and comfortable lather for a perfect cleaning. Allow the brush to dry standing on the horsehair so that the water is transported away from the wood that is more sensitive to moisture.
Oiltreated birch, Horse hair
Weight 193 g
Length 12 cm
Width 12 cm
Height 12,5 cm
In the late 1900s century a small brush manufacturing started out in Stockholm. It was a successful movement so successful that it remains today. Now, as then, every brush is made by hand by visually impaired craftsmen. It brings new dimensions to the concept of sensitively made by hand.
All brushes are of exclusive design and made mostly from natural materials.
Design & production: Iris Hantverk.
Email me
if you want to order something that I don´t have in stock.