Östra Storgatan 52, 553 21 Jönköping, Sweden
Tel: +46-36-30 23 32, Email
Open:
Wednesday, Thursday, Friday: 11.00 - 18.00
Saturday: 10.00 - 14.00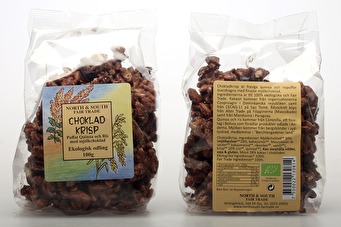 NOW 29 SEK (SEK 35)

Delicious chocolate crunch! Popped quinoa and rice covered with milk chocolate.

Organic 100g
Best before: 2017-09-30


The quinoa and the rice come from Coronilla, a small company in Bolivia. The cocoa comes from El Ceibo in Bolivia. The raw sugar comes from ATC in the Philippines and Manduvira in Paraguay. The vanilla from EcoResearch Foundation in India.
Read all »
Shop Lena Maria is a gift shop with:
The store contains Lena Marias' CDs, DVDs, books and original paintings as well as reproductions in the form of posters, trays, jigsaw-puzzles, books, cards and calendars of
Mouth & Footpainters
.

Lena Maria is also an Independent Business Owner of Kyäni's health products.

A warm welcome!
Lena Marias original paintings
Lena Maria is an independent distributor of Kyäni that offers both nutritional supplements and skin care products