Torkad frukt/Dried fruit - Mango Amelia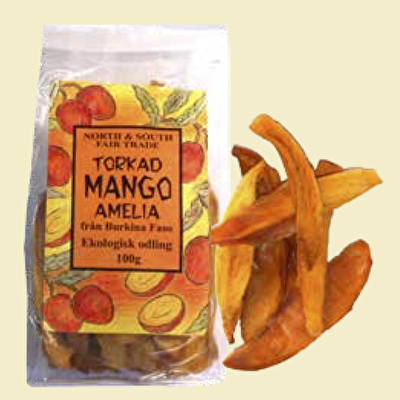 List Price:
39 kr
31 kr
Inc. 12% Tax
You Save:
8 kr (21%)
Quantity:
In Stock
Torkad mango från ekologiska odlingar i Burkina Faso.
Ekologisk 100g
Mango Amelia "den bästa torkade mangon från Burkina Faso" passar bra att torka. Mango Amelia mognar och skördas från mars – juni och är som färsk frukt orangefärgad och saftig men inte så söt. När den torkas, utan några som helst tillsatser, får den en aromatisk och sötsyrlig smak. Man vill helt enkelt äta mer! För att få bästa kvalitet måste den torkas jämt och snabbt på ca 24 timmar. Därför har det utvecklats speciella torkanläggningar som drivs av butangas och där luften har förvärmts av solenergi.
Sedan minst 4000 år tillbaka har mango odlats i Indien och det finnnns mer än 1000 olika sorter. Mangon kallas ibland "kungen av alla frukter" och är den mest populära frukten i Orienten och förutom som mogen färsk äts den också som torkad, som sylt, som gelé, som juice och som konserverad i burk. Omogna frukter används till att göra pickels och chutney. Det görs även pulver av frukterna som används i soppor mm. Kärnorna har ätits när det varit ont om mat och det görs också mjöl av dem. Timret används på många sätt och är uppskattat till båtar och kanoter. Urinen från boskap som fått mangoblad som foder används fortfarande till att färga textilier gula.
Mango Amelia kommer från Upromabio i västra Burkina Faso och är en sammanslutning av drygt 30 ekologiska mangoproducenter som var och en odlar mango på 1-5 hektar. Överskottet de får av försäljningen använder de just nu till att bygga en skola för 60 elever samt att laga och borra brunnar. En annan by har använt pengarna till att bygga stenbarriärer för att motverka erosion. Ett ökande problem pga klimatförändringarna.
På hemsidan
www.northsouth-fairtrade.se
kan du se hela sortementet.
Maila mig
om du vill beställa något som jag inte har i lager.
_______________________________________________________________________
Dried mango from organic cultivations in Burkina Faso.
Organic 100g
Mango Amelia "The best dried mango from Burkina Faso" fits well to dry. Mango Amelia matures and is harvested from March to June and is as fresh fruit orange coloured and juicy but not too sweet. When dried, without any additives, it has an aromatic and sweet taste. You simply want to eat more! To get the best quality, it must be dried evenly and quickly in about 24 hours. Therefore, special drying plants have been developed operated by butangas and where the air has been preheated by solar energy.
Since at least 4000 years, mango has been cultivated in India and there are more than 1000 different varieties. The mango is sometimes called "the king of all fruits" and is the most popular fruit in the Orient and, besides being ripe fresh, it is also used as dried, as jam, as jelly, as juice and as canned. Unriped fruits are used to make pickles and chutney. It also produced powder of the fruits used in soups, etc. The kernels have been eaten when there is a shortage of food and they are also made into flour. The timber is used in many ways and is appreciated for boats and canoes. The urine from livestock that has a mango leaf as food is still used to color the textiles yellow.
Mango Amelia comes from Upromabio in Western Burkina Faso and is a group of over 30 organic mango producers, each cultivating mango of 1-5 hectares. The surplus they get from the sale they are currently using to build a school for 60 students as well as to cook and drill wells. Another city has used the money to build stone barriers to counter erosion. An increasing problem due to climate change.
On the website
www.northsouth-fairtrade.se
you can see all variety ments.
Email me
if you want to order something that I don´t have in stock.