Kokosnöt/Coconut - Skålar/Bowls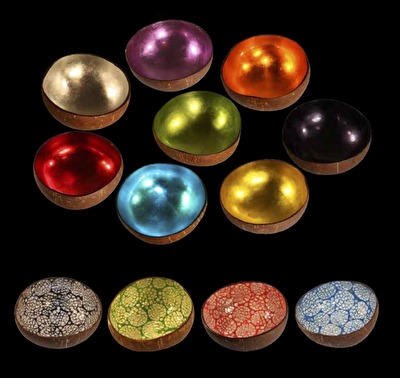 Price:
139 kr
Inc. 25% Tax
Quantity:
Dessa fantastiskt vackra skålar i sina härligt lysande färger är gjorda av kokosnötskal och tillverkas i Vietnam. De övre skålarna på bilden är lackerade i olika lysande färgnyanser på insidan. Kan användas för torkade fettfria livsmedel. De nedre är lackerade på insidan med intarsia av äggskal.
Storlek: Höjd 6cm, diameter 13cm
Färger:
Enfärgade: Grön, Guld, Lila, Orange, Röd, Silver, Svart & Turkos
Intarsia: Blå, Grön, Röd & Svart
Skålarna kommer från Craft Link, Vietnams ideella organisation som arbetar med traditionellt hantverk i program för fattigdomsbekämpning i enlighet med sin mission.
Genom att köpa dessa vackra alster skapar vi nya marknader och hopp för traditionella hantverkare!
På hemsidan
www.northsouth-fairtrade.se
kan du se hela sortementet.
Maila mig
om du vill beställa något som jag inte har i lager.
_______________________________________________________________________
These amazingly beautiful bowls in their wonderfully brilliant colors are made of coconut shell and are manufactured in Vietnam. The bowls on the top of the picture are painted in different brilliant color shades on the inside. Can be used for dried fat-free foods. The bottom ones are painted on the inside with the intarsia of eggshell.
Size: Height 6cm, diameter 13cm
Colours:
Single color: Blue, Green, Gold, Purple, Orange, Red, Silver, Black & Turquoise
Intarsia: Blue, Green, Red & Black
The bowls come from Craft Link, Vietnam's non-profit organization working with traditional handicrafts in poverty reduction programs in accordance with its mission.
By purchasing these beautiful products we create new markets and hope for traditional craftsmen!
On the website
www.northsouth-fairtrade.se
you can see all variety ments.
Email me
if you want to order something that I don´t have in stock.